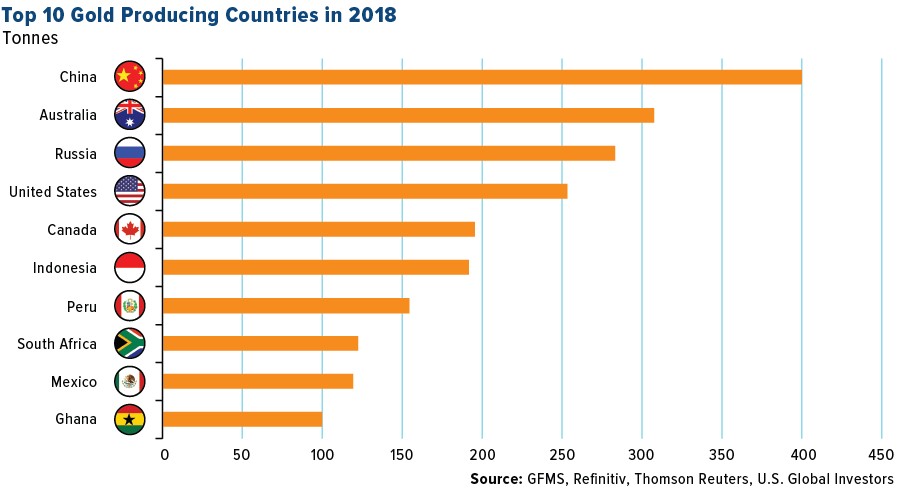 China is one of the top gold producing countries on the globe. Gold mining in China is by far the largest with 463.7 tonnes found in 2016. For the year 2007, gold output rose 12% from 2006 to 276 tonnes (9,700,000 oz; 304 short tons) to become the world's largest for the first time—overtaking South Africa, which produced 272 tonnes (9,600,000 oz; 300 short tons).
The second largest country with the highest amount of gold produced is Australia. They have posted 6 consecutive days in which they have had 6 increases in production.
A massive 83% of European gold comes from Russia which has been increasing its production every year since 2010. Russian output grew by 11tones in 2018 or about 2 percent. This is due to the fact policy makers are focused on growing the industry. In fact 2/3rds of Russia's gold produced goes straight to the Russian government.
Americas gold output rose to 10 percent in 2018 making it the fifth consecutive year of growth. 78% of gold produced in the U.S is from Nevada.
Canada moved up 2 stops from year 2017 and in 2018 has kept up the number 5 spot in gold production.Producing 17 tonnes more year after year.
Overtook Peru in regards to the number 6 spot. The island nation posted the biggest production increase in 2018 of 36 tonnes. A high-grade development into the Grasberg open-pit organisation operation drove most of the gains, with the giant producing nearly 40 percent of the country's total gold output.